Encuentro is mostly undeveloped; a pristine beach with no high rises or permanent buildings. White sands with quality waves makes it the perfect surfing beach.
Surrounded by the Dominican Republic's northern coast towns of Cabarete and Sosua, roughly 5-10 minutes' drive in either direction. It's in the district of Puerto Plata and only 20 minutes away from Gregorio Luperon International Airport (POP).
La CURADIÑA is just footsteps away from the stunning, variety-filled surfing beaches and breathtaking sunsets. Our boutique hotel is the preeminent place to experience the true Caribbean surfing vibe that is uniquely special to Encuentro in the Dominican Republic.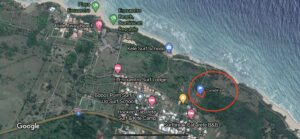 Over the years, has become a popular surf destination for beginners and pros from all corners of the globe thanks to the variety of reef breaks available for all levels of surfers.
Remember that the shallowest areas are for those of expert skill, so always be aware of your location and your individual talents. There are plenty of surf schools lined up on the beach offering lessons, coaching, board rental, and friendly advice.
Encuentro is the most consistent and exciting surf spot in the Dominican Republic, as well as the entire Caribbean. You'll find excellent waves, higher than 2′ (60 cm – Waist high) 350 days a year.
Here's information on the different seasons to help you plan your perfect Encuentro surf vacation:
WINTER SURF SEASON IN CABARETE (OCTOBER – APRIL)
Our best surfing happens during the winter months as the hurricanes and storms push down the Atlantic sending us perfect north and northeast swells. These swells can range from waist high long waves, to double overhead with the chance of getting barreled thrown in for a little extra stoke.
SUMMER SURF SEASON IN CABARETE (MAY – SEPTEMBER)
Waves all year round. Summer is the windiest season, with usually smaller waves compared to winter waves, making it the perfect time for beginners. Find out about surfing lessons in our experiences section.
If there's a will, there's a wave! During summertime, Encuentro is less crowded than wintertime, meaning more waves for you! There are various spots along the coast that fire all summer long with great swells, so if you are down for a little day trip, you can get barreled year-round! We offer packages to these «secret» locations, including coaching, transportation, food and beverages.
THE WAVES AT PLAYA ENCUENTRO
With waves year-round, it´s guaranteed that whenever you come to Encuentro, you'll have a blast. Our locals are incredibly friendly so don't be afraid of asking for help or advice!
Destroyers: For expert surfers and body boarders only. Heavy waves, mostly break in wintertime. A high level, barreling wave located on the left outside reef. Destroyers break on a very shallow reef and should only be ridden by experienced surfers.
The left: Great wave, best in wintertime when there's some north swell. Pretty good length of ride and has barreling sections. Can be shallow in some currents. Located between The Right and Destroyers, not super consistent but when it does work, it is a high-level wave with tube-riding potential. Not a beginner's wave.
The right: Main peak. Great all year round, reserved for right-handed. Fun wall with decent long rides. The Right can get crowded as it is not the most intense but remains a good quality wave.
Bobo's point and beginner's area: Multiple peaks, lefts and rights, and some barrels. From Bobo's all the way to the inside is where beginners feel most welcome. Gentle waves and white waters with a forgiving seabed.
Coco Pipe "The Pipeline of Encuentro": Very good wave, mostly breaks in wintertime or in hurricane swells. The rights are better and longer, the lefts are short, a tough paddle to get out. Coco Pipe, located on the right outside reef of the beach, is a serious reef break that should be handled by experts only.